If you are looking for a cost-effective cloud web hosting plan that's incredibly fast with SSD, lightning-fast network, simple to use control panel, highly available storage and everything safe and secure in the cloud, then DigialOcean is the way to go. The best part you can in a click of the button deploy pre-built applications including WordPress, Magento, Drupal and more.
DigialOcean is known for its cloud computing services that are designed for developers like you. With Cloud VPS starting as low as $5 month you get a secure and robust web hosting server. You can build and spin of a server (or Droplet as called by DigitalOcean) with complete root access in only 55 seconds.
Features of DigitalOcean Cloud hosting
All-SSD cloud servers on Droplet compute instance and Block storage.
High CPU servers for intensive workloads.
Simple control panel and much simple API with command-line utilities.
Can upgrade your cloud storage up to 16TB in a single Droplet.
40Gbps fast fault-tolerant and redundant network.
Pre-build Apps like WordPress, Drupal that can be deployed within seconds.
Load balancing to distribute traffic, floating IPs for failover, private networking and more.
Deploy servers globally with eight locations. This includes USA (New York City, San Francisco, Toronto), Europe (London, Frankfurt, Amsterdam) and Asia (India (Bangalore) and Singapore).
Tools to closely monitor the server, get instant alerts and more.
Personally, I'm running a couple of WordPress installation on a $5 DigitalOcean droplet. With the correct web server software like WordOps, you can create a high traffic website or WordPress sites on DigitalOcean. You can simply run a WordPress website with around 15000 to 20000 unique visitors per day on a $5 DigitalOcean droplet plan. The best part you can scale up the server within seconds. With the increase in load or traffic, you can selectively increase the RAM or Storage or CPU to suit your website needs. Or use a load balancer to distribute incoming traffic across your server to increase your application's availability.
Most of you may know how to apply a coupon or get a discount while purchasing a cloud hosting plan from DigitalOcean. If not, I have shared about how to apply these coupons or promo codes and grab discount to save money on your next purchase at DigitalOcean. But, in case you are in a hurry you can grab the coupons and deals right now, here you go.
More about DigitalOcean Discounts and Coupons
Anyone who is looking to try out cost-effective SSD based cloud hosting can give DigitalOcean a spin. DigitalOcean offers $10 to $20 credits for all new signups and existing customers. These DigitalOcean credits are good for two to 6 months of free Cloud VPS hosting. You can use any of the above DigitalOcean discount coupons or promo codes on your next cloud hosting purchase.
Got your promo codes or discount deals for DigitalOcean? Well, now let's learn how to use this promo codes at DigitalOcean. Once you have the promo codes head over to DigitalOcean. Signup for a new DigitalOcean account simply using your email address and your chosen password. Once registered log in to your DigitalOcean and head over to your account setting and from there to 'Billing' section. You need to add a Credit Card, Debit Card or Paypal before you can launch your first droplet or first cloud server with DigitalOcean.
Just below that section, you could find a 'Promo code' section where you can enter the promo code we shared earlier. The promo code will be redeemed instantly and automatically $10 to $25 will be credited to your DigitalOcean account. Do note that you also need to deposit a minimum of $5 using any of the above payment methods to DigitalOcean account. This deposited money along with the previous credits can be used for creating your first DigitalOcean droplet. You could easily run a cloud VPS server for more than six months using just $5 of your investment at DigitalOcean.
How to apply DigitalOcean Discount Coupons
Head over to DigitalOcean website.

Sign up for a DigitalOcean account (or log in to your existing account) or start by creating a minimum $5 droplet.

Once you have activated your account, head to the account settings and from there to the billing section.

In the billing section, you will have an option to redeem the DigitalOcean promo code.

DigitalOcean coupon codes will offer an instant credit of up to $25 on your account.

Now add a Credit Card, Debit Card or Paypal and make a minimum deposit of $5.

Once that done, you are ready to spin off a droplet or cloud server or cloud VPS with DigitalOcean.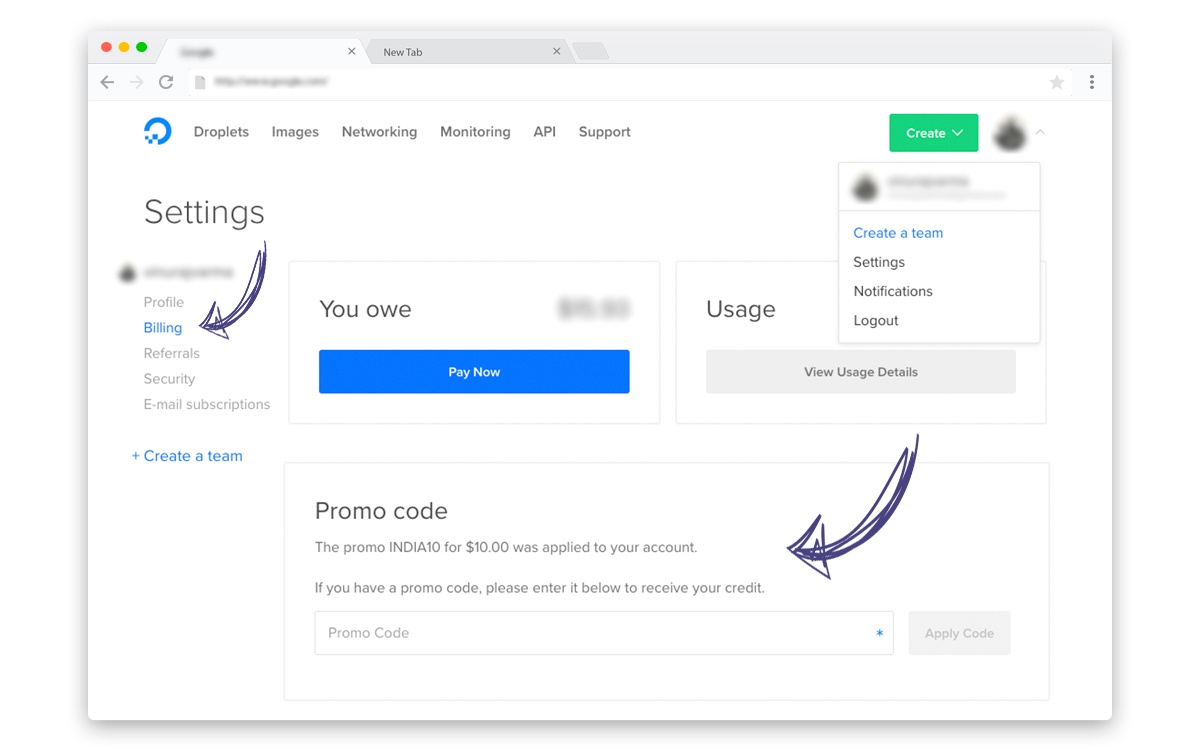 Be sure to come back regularly, as the coupon codes and discounts for DigitalOcean change every month. Also, most of these coupons and discount deals are valid only for new sign up.