If you are planning to purchase a new domain name or transferring a domain name from another provider or even looking for affordable hosting plans then NameCheap got you covered. Use these NameCheap discount coupons on your next domain name purchases, domain name transfers, the web hosting purchases, WordPress hosting purchases, reseller hosting plans, SSL certificates, private emails or business emails and even on VPS (Virtual Private Servers) and Dedicated Servers.
NameCheap is one of the popular online company for registering, hosting, and managing domains for yourself or for your clients and friends. Other than domain names and web hosting, NameCheap also offers affordable SSL certificates, Premium DNS service, Private Email hosting, Whoisguard and other website-related services.
If you are a noobie or a professional person looking to register, host and manage your domain names then NameCheap is an idle choice. Most of you may know how to apply this coupon or get a discount while purchasing domain names or hosting services from NameCheap. If not, I have shared about how to apply these coupons and grab discount to save money on your next purchase at NameCheap. But, in case you are in a hurry you can grab the coupons and deals right now, here you go.
Learn more about NameCheap Discounts and Coupons
Got your coupon codes or discount deals for NameCheap? Well, now let's learn how to use this coupon codes or promo codes on NameCheap. Once you have copied the coupon code from tutorialforest, head over to NameCheap official website. Now search for the domain name you are looking to purchase or transfer into NameCheap or choose a hosting plan for your existing or new domain. You can even select an SSL certificate or a premium DNS or a Private Email hosting service.
Add any of these products to your shopping cart. Now head to NameCheap checkout page and log in with your Namecheap credentials (create a new NameCheap account if you don't have one, it's completely free). Now at the checkout page, you will have an option to enter the NameCheap promo code or coupon code for the selected product. Discount will be applied automatically and instantly in your cart and you only need to pay rest of the money.
First copy the NameCheap promo code or coupon code.

Now go to NameCheap.com website.

Search for a domain or select a hosting plan or other services you want to purchase.

Add the selected product to cart and head over to the checkout page.

There login to your NameCheap account and if you don't have one create a new account.

At the checkout page, there will be a field to enter the Namecheap coupon code.

Here enter the NameCheap promo code you copied earlier and apply the coupon.

Discount will be instantly applied in your cart for the product.
Let's further help you with a simple example like purchasing a new domain name from NameCheap. First got to NameCheap and search of the domain name and see if it's available for registration. If it's available then add the domain name to your cart for purchase. At the checkout page, there will be coupon field where you can input the NameCheap discount coupon code. Like the coupon code '99SPECIAL' which will give you an instant 10 per cent discount on new domain registrations. Once the coupon has been successfully applied which will offer the discount automatically, you can pay the rest of the money. You can pay the money or make a fund transfer on NameCheap through Credit Card, Debit Card or PayPal.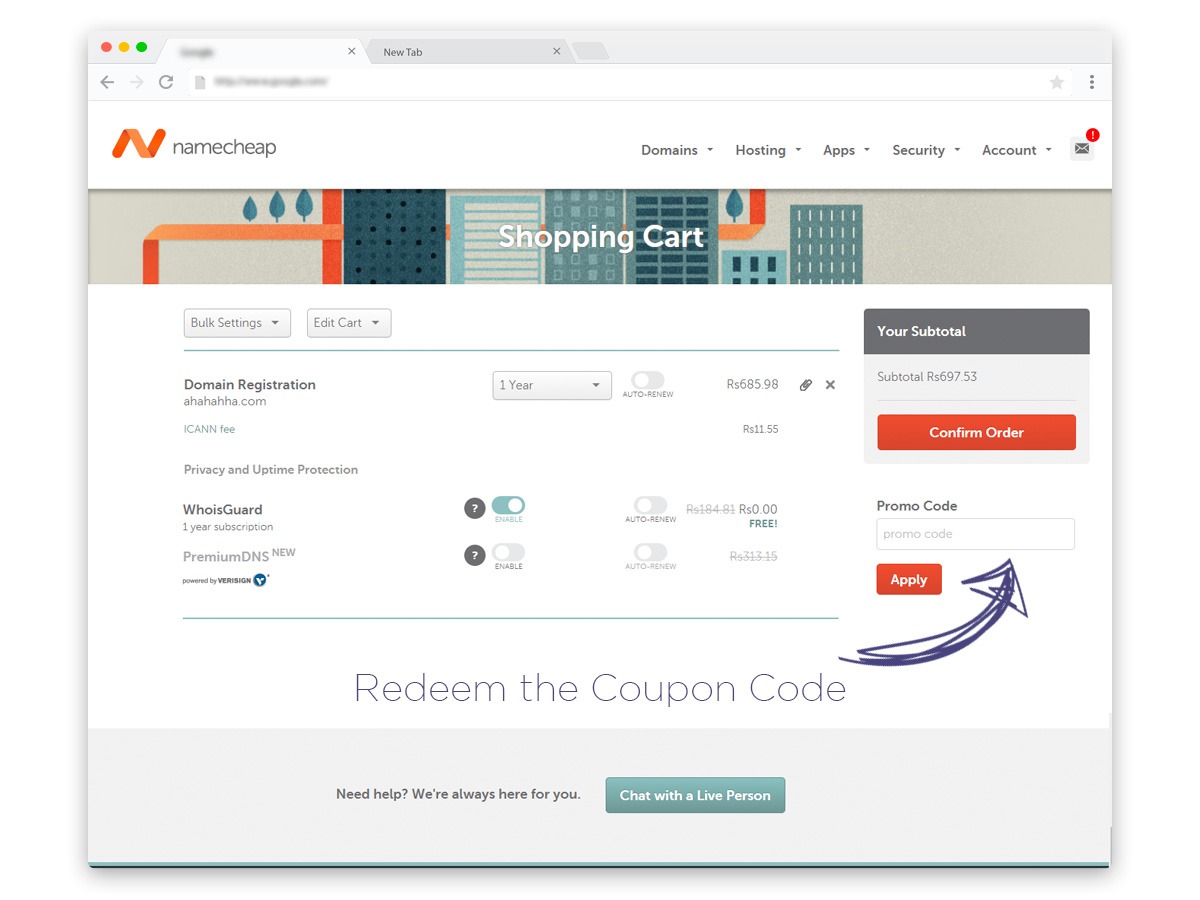 Be sure to come back regularly, as the coupon codes and discounts change every month. Also, most of these coupons and discount deals are valid only during the specified time or while supplies last.
Talking about NameCheap
NameCheap is one of the popular Domain Name Registrar who is also an ICANN accredited registrar. The company have been praised by numerous publications like Lifehacker. Namecheap offers a complete package starting from domain names with WhoisGuard privacy protection service and premium DNS service, full-featured hosting packages, secure SSL certificates, private email hosting service and more you can think about.
Even if you are looking to host a simple HTML, CSS website to a high-traffic WordPress website NameCheap can offer secure and reliable high-performance hosting. You get to choose from SSD powered, shared hosting, WordPress hosting, VPS and dedicated hosting. If you are looking to sell hosting service to your own clients, then you can easily get started with NameCheap reseller hosting plans. Everything from domain names and hosting services is backed by NameCheap's award-winning customer service which is available 24/7 and 365 days.