When you are looking for ways to improve the speed of your slow WordPress website the first thing you do is 'Google' for some WordPress optimization tips. Fortunately, you will find thousands and thousand websites offering simple tips to way complicated codes to improve your WordPress website performance. Following some of these WordPress performances, tips will definitely improve your WordPress website speed. But, doing more and more such code edits and plugin install will eventually bloat your WordPress backend and source code. Don't worry, we have Perfmatters a lightweight WordPress Performance Plugin that's built on clean code, no JavaScript on the front end and just under 50kb.
Perfmatters WordPress Performance Plugin is built by pro developers who have over 14 years of experience working in WordPress. One thing it does correctly and confidently is speeding up your WordPress website. The plugin can reduce HTTP requests, strip out the code and can effectively minimize back-end load. You no longer need to mess around with WordPress code or your theme's functions.php file. Your WordPress performance optimizations can be enabled/disabled with a single click or toggle of a button. The whole plugin is divided into three parts - Optimization, Scripts Manager and some extras like DNS Prefetching, Accessibility mode etc.
Perfmatters Optimizations configuration
The main feature of Perfmatters WordPress Performance Plugin is the option to disable or remove things you mostly don't use in your WordPress website and thus improving the website speed. For example, one of the biggest culprit to slow WordPress performance is query strings (? and &) you find in your WordPress static resources like CSS and JavaScript files. Due to this version string at end of the static resources, some proxy caching servers are unable to cache those files. This, in turn, will affect your WordPress site loading and hit heavily on performance. By using Perfmatters plugin you can simply 'remove query strings' by toggling a button and not messing with your function.php file.
Some of the Perfmatters WordPress Performance Plugin features include -
Disable WordPress emojis, Disable WordPress embeds, Disable WordPress XML-RPC, Disable scripts per page/post, Disable RSS feeds, Disable self-pingbacks, Disable Dashicons, Disable WordPress REST API, Disable Google Fonts, Disable Google Maps and Disable WordPress Heartbeat API.
Remove query strings, Remove jQuery migrate, Remove WordPress version number, Remove wlwmanifest link, Remove RSD link, Remove shortlink, Remove RSS feed links and Remove REST API links.
Change Heartbeat API frequency
Disable and Limit Post Revisions
Change WordPress autosave interval
DNS Prefetching
Support for WordPress multisite
Disable Comments and option to Remove Comment URLs
Add blank Favicon
Lazy Loading for images
You can easily enable or disable any of the above features in Perfmatters plugin by toggling a button. You also get detailed handy tooltip next to each optimization feature that links to Perfmatters knowledge base article. This allows you to learn more about the feature, how it could help in optimizing your WordPress website and its adverse effects if any. Perfmatters developers are regularly improving the plugin and adding more performance hacks to speed up your WordPress site.
Perfmatters Script Manager
Another cool feature of Perfmatters WordPress Performance Plugin is the Script Manager. Using this you can easily disable scripts on a per post/page/custom post type basis. For example, if you have installed Contact Form 7 the plugins CSS and JavaScript files are loaded everywhere in your WordPress website even when there is no contact form available on those posts or pages. With Perfmatters Script Manager you can easily disable the resource files everywhere and enable it only on the page/post where you have used the contact form.
Perfmatters Extras
As we said earlier, Perfmatters developers are regularly adding more performance hacks to speed up your WordPress site. One such feature is the DNS Prefetching, where you can inform the browser about all domain name references on your website so that the browser can resolve the DNS for those hosts and cache them. Finally, when the time comes to load resources from these domains, the browser can a have faster turn around on the request. Simply saying, it can load resources from other domains (like CDNs, Google analytics etc) quickly improving your overall WordPress speed.
So, you have learned much about the Perfmatters WordPress Performance Plugin and ready to give it a spin? You could by the plugin for $24.95 which is useful if you have only a single WordPress site to optimize. For those looking to use the plugin for a couple of WordPress sites can choose the Business plan (3 sites) for $54.95. If you are a developer and building lots of WordPress website then you can choose the 'Unlimited Sites' package for $124.95. All the above plans will come with one year update and support. Currently, Perfmatters is offering an introductory discount of around 10 per cent on its plugin. I have shared about how to apply these coupons and grab discount to save money on your purchase of Perfmatters plugin. But, in case you are in a hurry you can grab the coupons and deals right now, here you go.
Get flat 10 per cent discount on Perfmatters WordPress Performance Plugin.
Get started with Perfmatters WordPress Performance Plugin
If you have already purchased, the Perfmatters WordPress Performance Plugin then you are a step closer to optimize and speed up your WordPress site. Installing the Perfmatters plugin is simple as you install any other plugin in WordPress. When you purchase the plugin you will receive an email with the download link to the plugin or you can log in to your Perfmatter account and download it from there. For installing the plugin, head over to your "Plugin > Upload Plugin" section in your WordPress back-end. Upload the download Perfmatters plugin file (usually perfmatters.zip) and activate the plugin.
Once, Perfmatters plugin is activated you will find all the plugin configuration under "perfmatters" section under WordPress "Settings". The first thing you now need to do is fully activate the plugin by entering the license key which you got in your purchase email in the "License" tab. It's important to do this, as it will guarantee all future updates and new features that Perfmatters push out.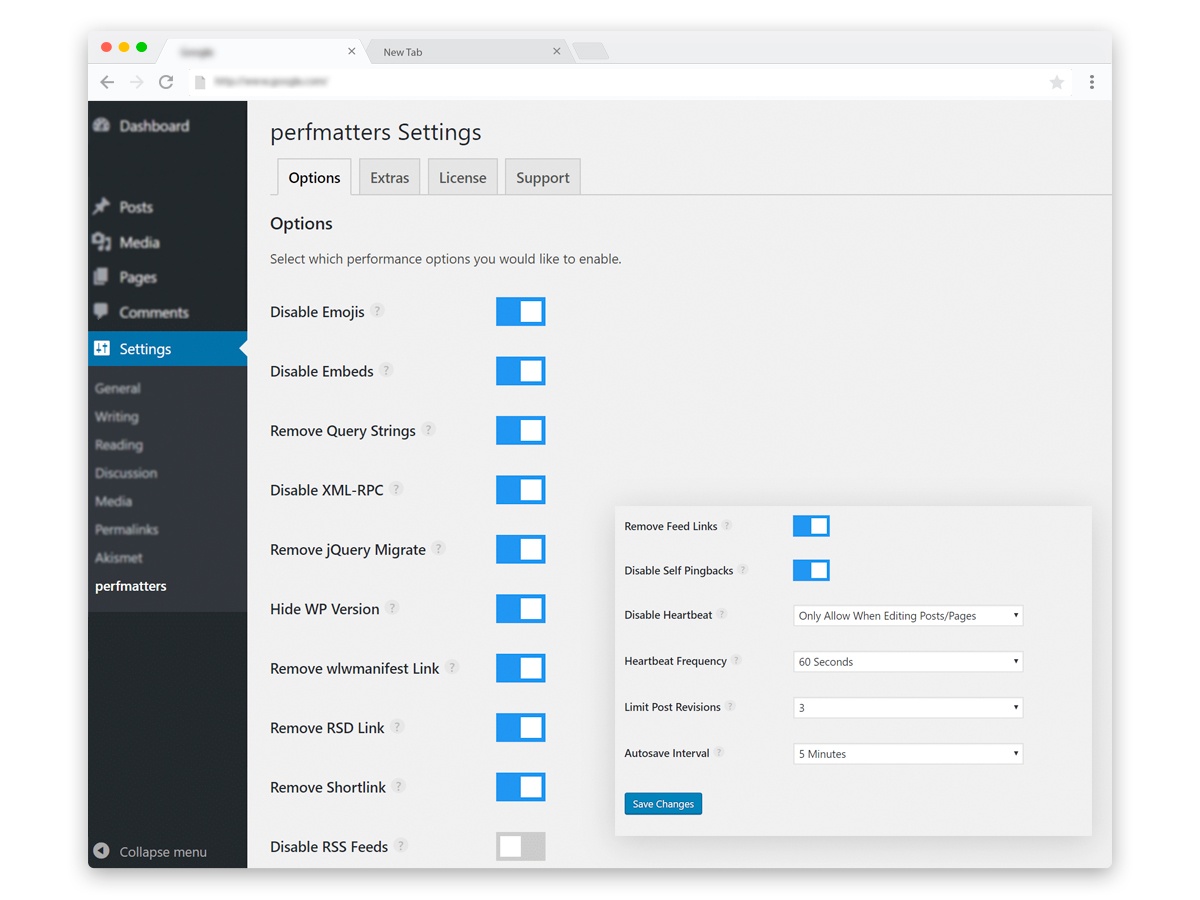 Now you are ready to speed up your WordPress website. Under the Perfmatters plugin "Option" tab you can one-click toggle any feature to optimize your WordPress website. You could also use the Perfmatters Scripts Manager to selectively disable or enable certain WordPress static resources for a particular post, page or custom post type or for the whole WordPress website.