You brought a great domain name, good quality hosting and started your website or WordPress blog. Focusing to get ranked high on Google or other search engines you start writing great articles with targeted keywords in the title, description and the content of the article. You even spend more time building backlinks to your website which after a few years will try to backfire you. But, one important thing we often miss during our Search Engine Optimisation guides is the use of Microdata or Structured Data or schema.
Structured Data essentially helps Google (and other search engines) to fully understand the content of a page on a website. You can actually provide clues about the meaning of content on a page to Google. For example, if you writing a recipe article, you can define the ingredients used, nutrition and calories, cooking time, steps to follow and so on. This data will help Google to understand the content of the page and display them correctly in its search results. There are different kinds of structure data like Articles, Books, Recipes, Reviews, Courses, Events, Job listing, local business, Music, TV and Movies, videos etc. You can find the entire list of Google support Structured Data or Scheme in Google's Guide.
Importance of Structured Data or Schema
Better Google crawling and understanding of your website content.
Higher SEO score for your pages or website.
Let users see your website's key information right in search results.
Boost your website's click-thru rates on search results.
Better highlighting of your website content on the search engine results page (SERP). Like displaying "stars" on a search result for your movie review website.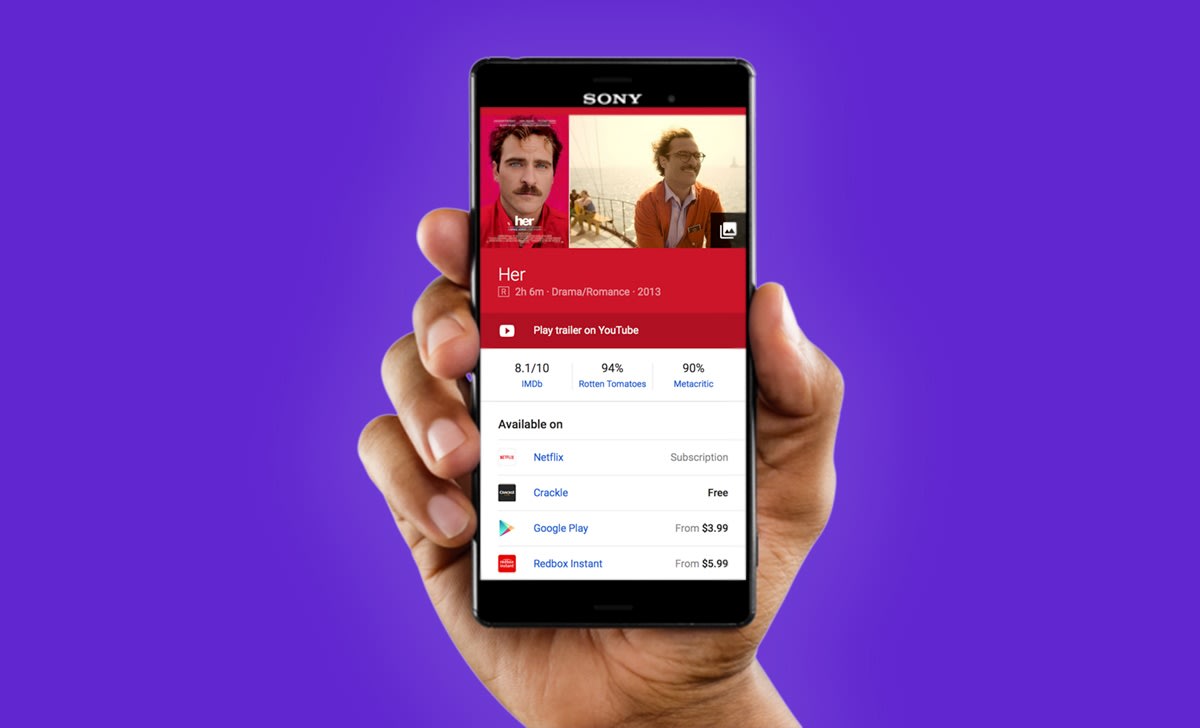 In simple words, the Structured Data or Schema or Microdata will boost up your website SEO and rank your website higher on Google Organic search results. This will bring more visitors to your website and eventually increase your revenue. Now let's learn how to actually add microdata or structured data or schema to your website or WordPress blog.
How to add Schema or Structured Data with Google Data Highlighter
Making things easier for you, Google has a simple tool called "Data Highlighter" which you can freely use to add schema or structured data on your website. The tool is part of Google Webmasters, so you will need to add and verify your website first with webmasters before using this tool. The best part, you don't need to change your site's HTML or need help from a developer. You only need to tag one page on your website with Data Highlighter. Google will then, automatically tag similar pages for you and stay in sync with updates to your site.
The whole process just takes a few steps and you can easily add structured data to any kind of website platform you use. Like simple HTML/CSS website, WordPress, Magento, Shopify, Laravel or other custom platforms. Here how you can add structured data to your website:
Step 1: First head over to the "Data Highlighter" under the "Search Appearance" section in Google Webmasters. From there, click on the "Start Highlighting" button to start the process.
Step 2: Enter a content page (like a blog page, recipe post, or product page) URL of your website. Then select the type of structured data you are going to highlight. Currently, Google supports Article, Book Reviews, Events, Local Business, Movies, Products, Restaurants, Software Applications and TV Episodes based structured data. You may also want to choose "Tag this page and others like it" option so that Google can automatically tag similar pages of your website.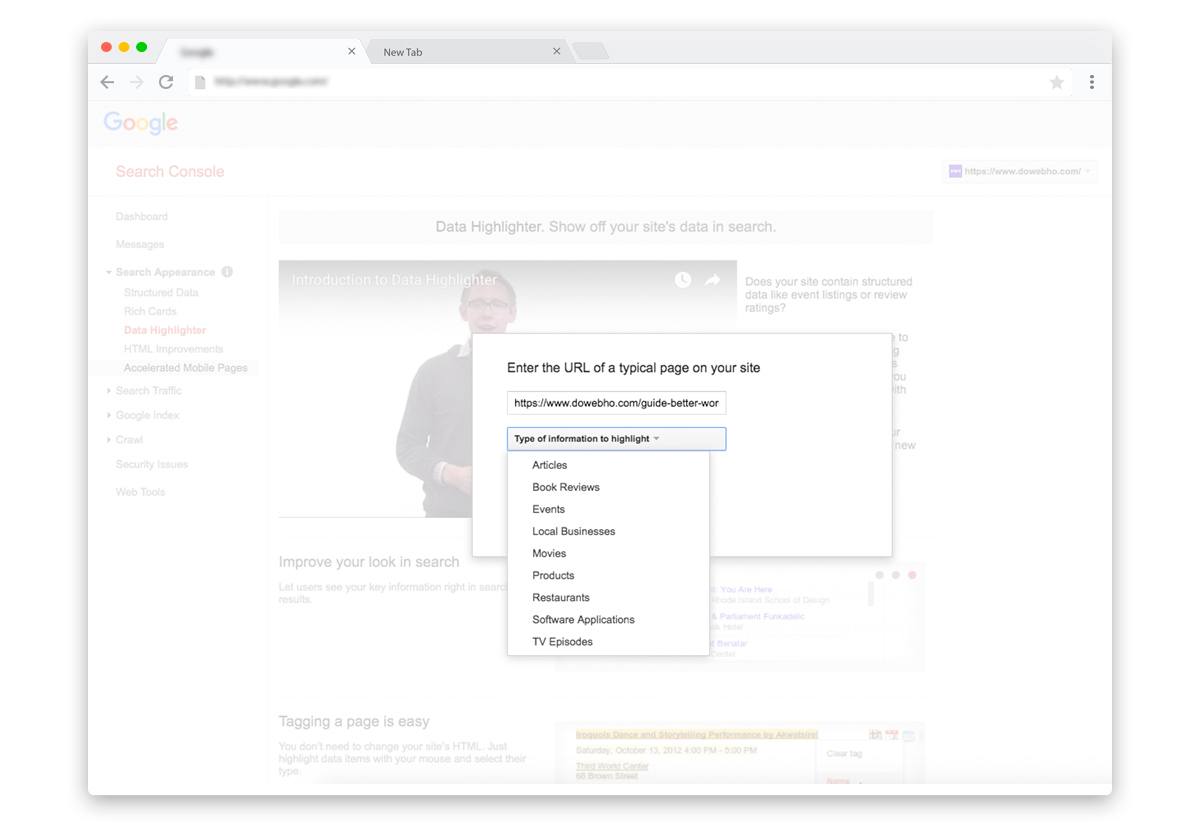 Step 3: Now, you can use your mouse to drag and "highlight" parts or data items on the page. For example, you can select the whole title and add it to the "Title" tag.
Step 4: Once you have highlighted all the required fields for your selected schema or structured data, Google will auto-detect all pages on your website with similarly structured data. You can add all those similar pages under a single page set.
Step 5: Google will then take you through a series of pages to further verify/resolve any issues in the structured data on those pages based on your selected schema pattern.
Step 6: Finally, you'll be shown all those pages you have reviewed earlier to check again for accuracy. In any case, you find the highlighted data for a page is wrong, you can click on the highlighter tool (Pencil icon) to further edit the page.
Step 7: You may also set a "Date format" and default "Site language" for your website. This can be done from the setting page (clicking on the gear icon).
Step 8: Once you think the structured data you selected is accurate to your knowledge, click publish. Google will now start re-crawling your pages for the structured data and will index those pages with the new information.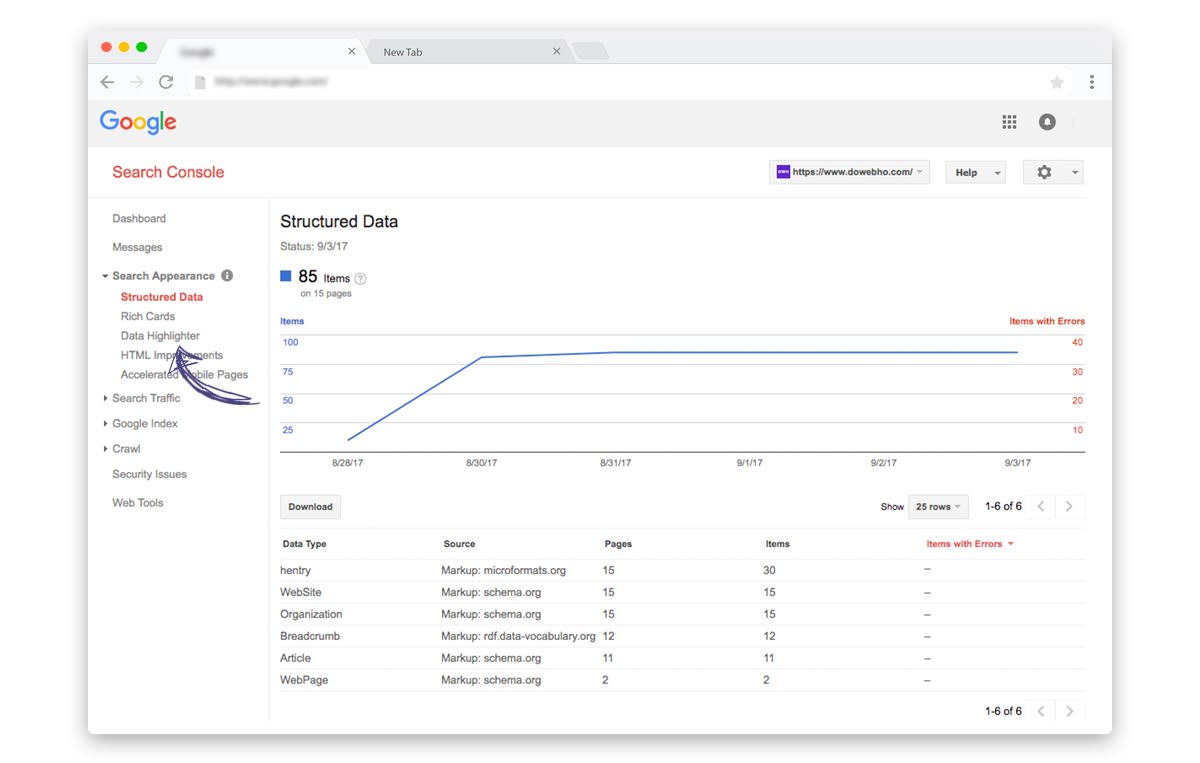 You can find the status of your website structured data under the "Search Appearance" section in Google Webmasters. Note that it may take two days to a week for the structured data to get populated.
Hope adding structured data to your website have improved your search engine ranking. Got any doubts on the implementation part? let me know in the comment section below.